Canine Physiotherapy & Hydrotherapy
Hydrotherapy
Hydrotherapy is a method of rehabilitation performed in warm sanitised water and a safe environment. At Top Dogs in Lucan, Amie and Margot work with dogs in an underwater treadmill to restore movement, strength and function in dogs that have musculoskeletal, neurological and orthopedic conditions.
Depending on the needs of your dog, hydrotherapy can be used to support body weight, decrease joint loading, maximise joint range of movement, stimulate sensory input, provide resistance and challenge fitness. Hydrotherapy draws on the therapeutic properties of water to encourage natural balanced motion in your dog.
Some of the conditions that benefit from Hydrotherapy:
Pre and post operative conditioning
Arthritis
Hip and Elbow dysphasia
Chronic degenerative reticulomyelopathy (CDRM)
Spinal injuries
Neurological Damage
Cruciate ligament injuries
Obesity
Ligament and tendon injuries
Relief of pain, swelling and stiffness
Fitness (muscle building)
Conditions of Hydrotherapy
To ensure safe and effective therapy it is important that owners adhere to the following conditions:
Please give at least twenty four hours notice if cancelling or changing an appointment. Your dog's appointment time has been kept exclusively for them.
A completed veterinary referral form is required when beginning hydrotherapy.
Ensure your dog has not eaten at least two hours prior to treatment and do not feed them for at least two hours after hydrotherapy.
Allow your dog to go to the toilet prior to hydrotherapy. If your dog goes to the toilet or vomits in the water the session will be ended and full price will be charged.
Ensure your dog is clean when attending hydrotherapy.
Do not bring dogs with vomiting, diarrhea or infectious conditions to hydrotherapy.
Do not bring female dogs in heat for hydrotherapy.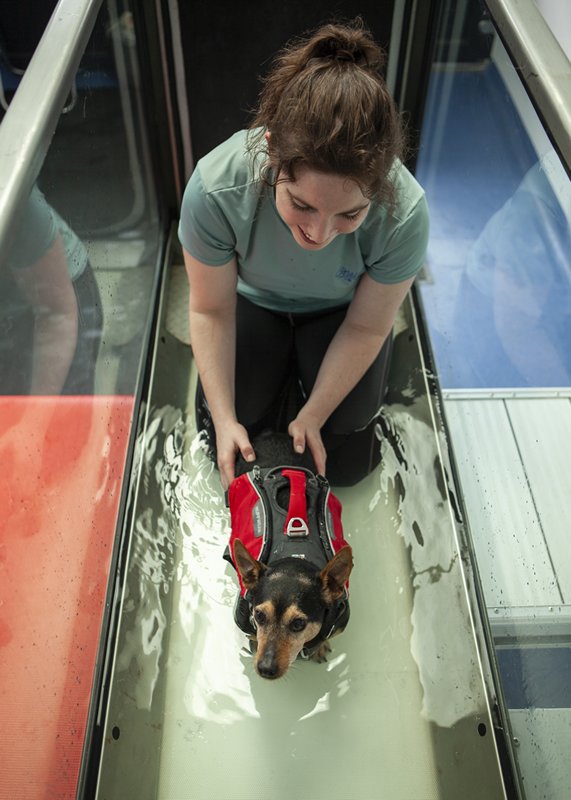 Physiotherapy
Physiotherapy incorporates manual therapy, electrotherapy and exercise therapy to improve joint movement, increase muscle strength and improve physical function.
Amie uses clinic enrichment and therapeutic handling to engage with your dog and promote natural balanced movement.
Please download and fill out the physiotherapy referral form if you would like to make an appointment for your dog.
Download Form
Request a Call